The Truth about Bugs
I have so much to tell you. Things started getting odd around our house early this year. At the end of January, Granny came to live with us for a weekend and Mom and Dad went away. When they came back they smelled of strange dogs, lots of strange dogs. And then it happened again in February. Same thing, with the same strange dogs smells on them when they got back. Then, the calendar page turned one more time and it was March. Here we go again ! But no, this time was different. When the suitcase came out of the closet, it wasn't only Mom and Dads stuff that went in it, but all our special stuff went in it too, like our bowls and leashes and toys! This was very very different, but I am always up for a car ride, so off we went.
We drove and drove for a long time, and then stopped. I thought we were there , whereever "there" is. But no. We only got out for a potty break and short walk and then back in the car and drove some more. Two potty breaks later, we finally stopped. We got to stay in a hotel which was lots of fun. We had to run up and down the stairs three whole floors every time we needed to go outside. And we went for a walk in the hallways and got to sniff at every single door. What an adventure. The next morning, we got in the car again.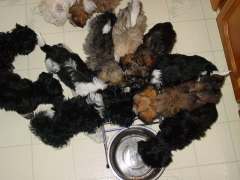 I figured we were doing the loooong car ride home but I was wrong again. This was just a very short ride. When we stopped this time we were at a house. You wouldn't believe the kerfuffle that greeted us at this place. And what a lot of dogs. I mean a LOT! And... I recognised all the smells. These were the dog smells that Mom and Dad had on them on those secret weekend getaways. We were at Auntie Penny's house. We were mostly polite as we sniffed butts and got to know each other and decided we could be pals. So many dogs to play with except for one thing. There was also a pile of little puppers and they sure are pests. They jump and chew on your ears and tail and everything else.
But...... then I saw her......... the most beautiful girl in the world! Her name is Ladybug. Wow what a girl. I am head over heels in love. So long as I had Ladybug to snuggle up with, I could ignore those pesky little fluffballs. But all too soon, it was time to go again. Sigh! And this time it was for the long car ride home. I was all tuckered out from playing so I just snuggled up and slept all the way home, dreaming sweet dreams of my lovely Ladybug. Finally we got home, and while we were unpacking SURPRISE ! We had a stowaway! One of those pesky little furball puppers must have snuck in while Mom was packing. It was the pesky pup called Cricket. It was too late to turn around and take her back so we had to keep her. Dad calls her his little "Bug". I don't think its because she's a Cricket, I think its because she bugs you all the time and I mean ALL the time. Sigh! She's not too bad I guess and there are lots of extra treats with her around; but if there was gonna be a bug coming to live at our house I wish it had been my Ladybug.
Well, its been three months so it looks she is here to stay! Right now Cricket is almost 6 months old and teething like crazy. Cricket is also into gardening and likes to climb into the planter for naps with the pansies. She is supposed to be a show dog. Ha! You should see her right now... she was playing the in yard where Dad was pruning so she is covered in twigs, then she played tag with the sprinkler that was watering the fresh dirt and grass seed. She's gonna need lots of baths before she is ready for the show ring. Hmmmmmm... better her than me.
Rags (who has a Cricket bug for a sister instead of a Ladybug for a sweetheart)
---