Pride and Joy
As you may have gathered, there is always something going on around here. It just never seems to end. Cricket's puppies were growing up and ready to go home mid-summer so I thought finally I could get some peace and quiet around here. But No; obviously Mom had other plans. One day, someone comes to the door and they've brought their dog over to play, well Ok,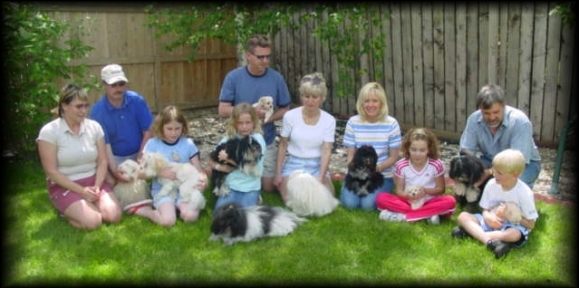 but then another came and then another and another, until, yup you guessed it, we had one heck of a Hav-a-Hoopla going on. Havanese everywhere......little ones, big ones,young ones, old ones, bossy ones and nice ones. Okay, I will admit I had a lot of fun too. And not only once, Mom did this twice this summer ! And we got two Havanese visiting us from BC too in the middle of it all. I really enjoyed our visits from Oreo & Panda.
Other than all this fun stuff, Mom was busy with the pupsters and with showing Dusty. He had his share of the glory this summer. I just had a peek at his Parade of Champions list and I guess he does deserve some of the applause. Dusty is Mom's Pride & Joy because he is our very first homegrown champion. The spunky little mischief maker set out to finish his championship in only 10 days at 8 months 1 week old, with a Group 3 and a Puppy Group to add to the glory. And then went on to add some more including a dazzling finish at the Toy Specialty this summer where he actually beat his Daddy in the ring. Oooo the little rascal, he ought to know to respect his elders. Not that he ever respects me and I'm 8, but you know kids these days. That's Not to say that I have been totally eclipsed by Dusty. I had my share too this summer. We went to an agility trial and you all know how naughty I can be out there. This time I was good as gold and "I", yes me, 8 year old Ragamuffin actually earned my very first agility title ! WooHoo ! And that's not all. I also picked up two legs towards my very first Obedience title. Mom says I'm just a slow starter. Now I am her little Pride & Joy ... move over Dusty. Then Mitzi got two qualifying runs too and then she was also Moms Pride & Joy. Hey... I thought I was. Grrrrr. Cricket was there too and she goofed. After blazing her way around the course perfectly she would not do the teeter totter, so, no points for her. But Mom picked her up anyway and gave her a cuddle and said she was her little Pride & Joy. What is going on here? Mom is as fickle as dandelion fluff.
This summer too, Mia came to visit. She was at the dog show, and she beat me and Mitzi in the altered classes to become Mom's little ... you guessed it ... Pride & Joy. I don't understand this one bit. I didn't mind that one too much though. Because I am so well behaved and angelic and perfect , I was the one chosen to be shown by 11 year old Jocelyn in her very first time ever in the ring. We did great and got a beautiful rosette and prizes too and oodles of treats. At the same time as all this was going on, Crickets puppies were picked up by their new families.
Before each one left, Mom gave it a kiss and a cuddle and told them each they were her Pride & Joy. Then later, before going to bed as I got a belly rub, Mom told me again I was her Pride & Joy. Now I get it! Mom loves us all and we are each special to her in our own unique way. So there is lots of room for me and Mitzi and Cricket and all the puppies; Kaz, Mia, Dusty, Oliver , Meeko, Sonni, Presley and Jasmine to all be her little Pride & Joys. So if you ever hear your humans say that to another dog, it's Okay..don't worry about it. I bet it's just the same at your house too, that each and everyone of you is a Pride & Joy and that's what Havanese do best.
Rags
---