Jinx
Pocopayasos Hi-Jinx at Mimosa - November 5, 2006
Jinx is from Pocopayasos Havanese in Ontario. If you have been brushing up on your Spanish you will know that "Payaso" is a clown and that "Poco" means little. You already know that Mimosa means pampered and endearing. As for High Jinx......the dictionary defines it as "rambunctious merry making". Jinx Mom is an Angel in Disguise and her Dad is a California Star so what else could you expect but an endearing merrymaking little clown. Jinx is a silky coated, Black/Silver/White tricolour, 9&3/4 inches tall and weighs just under 10 pounds.
Jinx very favourite game is to play fetch and her best trick is spinning in circles. Jinx has her show championship as well as her Canine Good Neighbour certificate, Rally Novice title and Pre-Novice Obedience title.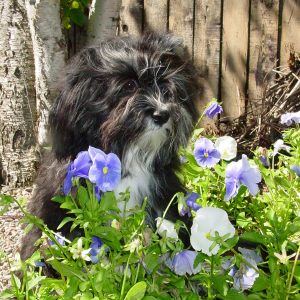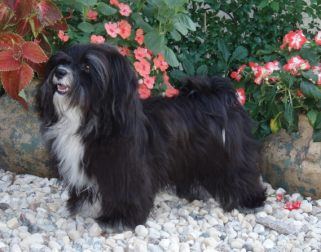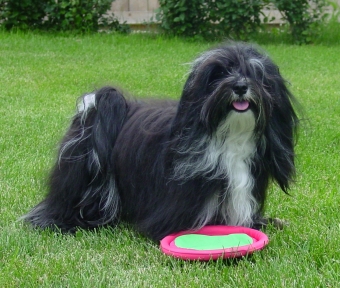 Like Cricket, Jinx is also a Mom.She has 4 beautiful kids from our 2010 "Sensation" litter (Cocoa, Casey, Juke and Lacey), 5 more from our 2011 "Taken" litter (Storm, Oscar, Rango, Sox and Bella), another 4 in our 2012 Time litter (Otto, Bailey, Linus and Abby) and a final 4 in her Spice litter in 2013 (Keeper, Chili, Spice and Molly). You can see their pictures in the puppy albums. Jinx is now retired from breeding.