Homemade treats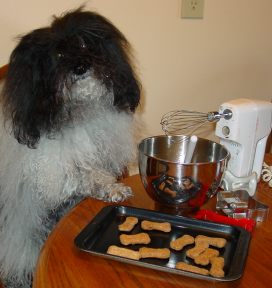 Pampered pets deserve the best. Store bought cookies are fine for everyday snacks; but for holidays and other occasions or just whenever you feel like doing something extra special for your pet, nothing beats home-made treats. They'll love every bite. These delicious snacks are a big hit at our house. We hope your dog likes them too! Our dogs love baking days. I have three eager tasters lined up waiting to lick a spoon or to sample a fresh warm offering from the oven.
NOTE: These recipes contain no additives or preservatives and so they will not keep as long as commercially prepared treats. Most do keep well for at least 10-14 days in a container or cookie jar. Biscuits made with milk and cheese should be kept refrigerated or frozen. If you choose to make larger batches, consider freezing a portion and just thaw a few at a time.
To make easier clean-ups, I like to line my cookie sheets with foil and/or lightly spray with non-stick cooking spray. If you want to add even more taste to your Pet treats, use garlic flavoured cooking spray. Most of these are recipe variations developed in our own kitchen. Credit is given where recipes are from other sources.
DROPPED BISCUITS
Tail waggers waffle bites
- a yummy waffle treat which can be chewy or crisp. Also has a delicious peanut butter and a tempting bacon variation.
Banana Blitz
- an alternative to Banana bread and muffins to use up your over ripe bananas
Kibble crisps
-turn your recipe into a suitable treat for dogs with allergies or on special diets
Triple-H treats
- Just 4 simple ingredients
Seafood delights
- The cat will love these too
MISCELLANEOUS RECIPES
Frosty Paws
- recipe for homemade doggie ice-cream
Pupsicles
- another cool treat for hot summer days
Jiminy Crickets
- Chicken liver delight
Baked liver
- great show or training bait
Satin balls
- perfect to tempt recovering invalids or finicky eaters or to put on weight
Grow hair on a doorknob
- I don't know if this really helps grow coat but it sure does make it shiny
DON't FORGET THE HUMANS
Pawprint cupcakes
- a fun treat for the human guests attending doggy festivities
CUT OR SHAPED BISCUITS
Cheese Please !
- A bite-sized treat full of cheesy goodness.
Gingersnap puffs - unique and tasty recipe that puffs up upon baking
Puppy pretzels
- a little time consuming to make but your pet will love you for it
Ragamuffins
- Rags all time favourite treat so of course they had to be named after him
Carrot crunchies
- Carrots , Applesauce and rolled oats make a nutritious homemade treat
Mitzi's munchies
- This Chicken and garlic combo make Mitzi a very happy girl
Sunflower snaps
- A biscuit with a different twist
Peanut butter bites
- Thin and crisp on their own or as special sandwich treats for a party
Cocoa's Veggie Nips
Crunchy biscuits chock full of nutritious veggies
Multigrain biscuits
- Huge recipe for multi canine households or to make up for a bake sale
PAN OR SHEET BISCUITS
Soft, moist brownies,cakes and nuggets can make good show or training bait.
Liver brownies
- irresistable
Carrot cake and apple cake
- tasty temptation
Banana birthday cake
- celebrate in style
Jinx's blue cheese nuggets
- a yummy bite
---