Musical freestyle
The unique and exiting new sport of Musical Freestyle combines obedience and dance. It is a dazzling display whereby a handler and dog work together to music in choreographed routines. It may also be done as a team competition with multiple handlers and dogs. It is amazing to watch and lots of fun to participate in. Turn your tricks and obedience work into a dynamite routine. In Canada, Freestyle started as an exhibition at a dog show in 1991. Since then it is gathering followers and becoming more popular.
Mitzi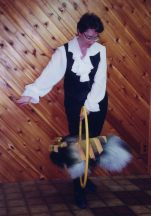 Musical Freestyle is a perfect expression of Mitzi's exuberant nature. In keeping with her heritage,
Mitzi's first routine was done to a lively latin beat,
the tune of
Spanish Flea
.It suited her perfectly. A
second routine used a tune called
Popcorn
. As well,
our school dance team has a team routine for 8-10
dogs done to the tune of
In the Mood
which is
always a crowd pleaser when we visit senior's homes.
Dance moves
Left and Right Heeling
Spins in both directions
Twirls
Walking backwards
Jumps (over feet, hoops and bars)
over/under
Grapevines
Circles
bow
Pauses
speak (a well timed bark
Down
roll over
play dead
High 5
crawl
Hi Ho Silver (waving her paws in the air)
Gotcha - her best trick where she jumps into my arms for the grand finale
---