Doggie Daycare
Everyone is familiar with daycare for Children, but did you know about daycare for dogs? Daycare for pets is a relatively new and rapidly growing trend. Daycare for your pet may be a fitting solution for many different situations. Perhaps you work long days, or live in an apartment/condo and Fido is known to bark when left alone for long periods. It may be that Rover gets bored and into mischief when left to his own devices. You may not want Fluffy to be loose to roam the house all day, but donít like the idea of locking her up in a crate day-in/day-out. These are only some of the reasons. For many owners, daycare fills another need; an option for providing extra TLC for their pet in the ways of attention, supervision, human and canine playmates and ongoing socializing and mental stimulation. As owners discover the benefits of doggie daycare, facilities are popping up all over.
One of my young Havanese is in daycare two days a week. I chose this for many reasons. I don't like leaving a young puppy confined all day, every day. There are not very many puppies her age, or size, around so this is a good way for her to have playmates and playdates. And I also like her to learn to be away from home and to be comfortable with being cared for by others. The daycare facility is a half mile from my work so very convenient to drop Cocoa off and pick her up. There are two floors, upstairs for Woofers (the big dogs) and downstairs for Wagglers (the small dogs). Big and small are always kept separate. There is plenty of staff to keep an eye on things and dogs are never left unattended. The small-dog room is for dogs that mature to less than 25 pounds. The "kids" range from a 3 pound Yorkie to a 22 pound Beagle. The room has plenty of space to romp and safe toys to play with. The day is structured with play time, training time, snack time and nap time. A separate smaller room is the quiet corner for nap time and also perfect for newcomers to relax as they get accustomed to the environment. There are double doors between each room and automatic locks on the outer doors for safety. The facility has done all they can to ensure the safety of the dogs in their care and to provide a fun and stimulating environment. There is opportunity for potty breaks in the enclosed outdoor run every half hour.
Just like you get at kids' daycare, Cocoa brings home regular "report cards" that includes information about her play, manners and attention as well as who her special friends are, details of how much she ate and everything else pertinent to her health, wellbeing and care. All of this is important to me as a dog Mom, but best of all is that Cocoa loves daycare. The second we walk in the door, she is excited and tail wagging, anxious to go say Hi to all the "aunties". What more could I hope for? Daycare has worked out beautifully for us.
During the summer, the daycare hosted a family BBQ; Woofers (big dogs) on Saturday and Wagglers (small dogs) on Sunday. The party gave a great opportunity to get to meet some of the other daycare families as well as to meet Cocoa's playmates; to see how the dogs interact and play together, as well as to see how the staff keep control with a dozen or more dogs running around. Everyone, human and canine, had a wonderful time. Pawprint pupcakes make a fun and tasty dessert for the humans at any dog party. (See the easy recipe on the treats page to make your own).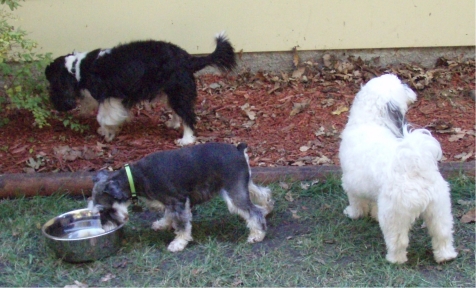 Is daycare right for you and your pet? Here are few tips if you are considering it. Be sure the day care you choose has experienced personnel who genuinely love animals. Are all staff certified in pet first Aid? Is there is Veterinarian nearby on call for the facility in case of accidents? Is the facility secure for dogs of all ages and all sizes? Are large dogs and small dogs separated? Is the day structured or a free-for-all? How much does it cost? Are there any special packages? The staff should have as many questions for you, from wanting to know the age of your pet to his personality, aptitudes and special quirks. Current vaccinations and spay/neuter status are also important details. Of course they need to know how Blackie gets along with other animals. Don't be surprised if you and your dog have to attend an interview to see if daycare is right for your puppy/dog. Do your homework to find the facility which is just right for your circumstances.
Day care for dogs. What a grand idea!
---