About Us
I have been involved with dogs my entire adult life and in particular with the Havanese since 1994. Sharing my life in the Canadian Prairies is one very supportive husband and a mother/daughter duo of fun loving Havanese. I have been an instructor at a local canine education center for a dozen years teaching toy dog classes and rally-O. Competing in Conformation, Agility, Obedience, Rally and Herding among other pursuits, I have put over 50 titles/certificates on my Havanese.
My canine related writings have appeared in assorted publications; Literary works include poetry, short stories, columns, articles, features and educational studies, collaborative chapters in a breed book Joyous Havanese, co-author of From Nose to Tail a grooming handbook and of course my own Woofs, Wiggles and Wags and Pawprints.
Mimosa Havanese (CKC Reg'd)
Our Spanish kennel name was chosen to honour the Havanese heritage. The feathery mimosa blossom is reminiscent of the fluffy Havanese coats; the effervescent cocktail hints at a bubbly personality. Mimosa is also a descriptive spanish adjective meaning pampered, affectionate, frolicsome and beguiling. Mimosa, in one word, is a Havanese.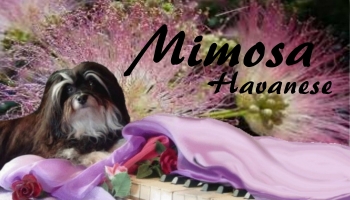 Litters and Puppies
Our dogs are pets and companions first and foremost. They are raised and live in the home with us as an integral part of our family. Mimosa Havanese are bred with care, raised with love and exhibited with pride.
Sorry, we are not breeding at the present time.
---