Training myths
"Never teach a show dog to sit". How often have you heard this? I have heard it dozens of times, most recently at a training class with a young puppy. While practicing "sit" someone asked "I thought you were going to show her?" You bet I am, but what does that have to do with anything else?
Those who think this way have an overwhelming concern that a puppy that has been taught to sit, will choose to sit in the show ring instead of standing as it should. Most often, it is conformation aficionados who offer this tidbit of advice. Many performance enthusiasts snicker under their breath upon hearing it. Is one group right, and one group wrong? Perhaps they are both right but simply looking at the issue from completely different perspectives.
Let's start with the dog, the Havanese in particular. Havanese are very clever and intelligent. They learn easily and can be taught almost anything using positive training methods. Many Havanese have a very high will to please and love to make their masters happy. Those clever brains show up at a very young age. As many new owners can attest, it takes less than a day for a puppy to learn the word "cookie" and within a week, they also know the spelling of it. Spelling out the word C.O.O.K.I.E does not confuse many a Havanese. W.A.L.K. is not far behind. It's interesting to hear someone talk about how their Havanese can understand their every word and how intelligent they are and yet at the same time assume that they cannot possibly comprehend the difference between "Sit" and "Stand". So who is the dumb animal?
Even as the youngest child knows that pulling out the cleats and shin pads means it's time for soccer practice but pulling out the bathing suit means swimming class is the destination; our Havanese understand similarly. Using different equipment as well as different commands and cues, you will quickly let your Havanese know what's up. Don't sell your Havanese short. The Havanese is smart and can learn a lot more than you think, and once he has learned it, will have no trouble at switching between one and the other. Once he has learned it is my condition in support for the side that argues "never teach a show dog to sit". A young puppy does absorb lessons like a little sponge but also has a brain like a sieve. There are so many distractions to capture the attention. You can train all sorts of things within a same extended period of time, but in any given lesson, it is best to focus only on one or two exercises. So you might work on standing on the table and standing on the floor within a lesson, or in another, you might work on heeling and sitting when you stop, but you likely would not work on heeling and gaiting in the same lesson. As an aside, I would just like to point out that your Havanese already naturally knows how to sit and lay down and stand and walk. Training simply gives names to these things he knows naturally. Once he understands the name for a given activity or position, that allows you to put that specific behavior under control. That is training. We give many more cues than we realize.
Consider your grooming table. At a dog show, your puppy will be expected to stand on it, at home when you pull out the brush he will be expected to lay quietly for grooming, and when you pull out the toothpaste he will need to sit to get his teeth cleaned. Equipment does not necessarily mean a leash and collar, though it may. It also means everything else, the location, your clothing, your voice, your routine, the sounds and the order of things.
My support for "They're not stupid, go ahead and teach both" comes from 25 years of dog training experience. What I have learned is that the more you teach your Havanese, the more easily they will learn. The more easily they learn, the more you can teach them. This is the good kind of vicious circle. You might be thinking that this is easy to say but does anyone really do it? I was hoping you'd ask! Let me tell you a story about about one little Havanese.
Mitzi
Her name is Mitzi and she arrived in my life in the winter of 1995. As a puppy, Mitzi was an effervescent, bouncy, unstoppable bundle of energy. Her drive to go was as high as her will to please. All dogs should have acceptable social manners; puppies will benefit from basic obedience training so they can mature into the confident, reliable, well behaved companions we all dream of. Mitzi started puppy kindergarten at 3 months of age, and then went on from there. As the months went by, she slowly matured from a wild hooligan into a well behaved companion, always a delight to have around.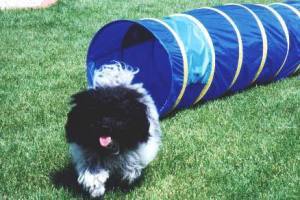 I really enjoyed training and found Mitzi to be especially responsive, so I decided to pursue Obedience at a competitive level. Obedience is not for everyone nor is it for every Havanese. Mitzi made history as the first Canadian bred Havanese with a C.K.C. obedience title when she earned her CD, and continued the tradition as the first Havanese to have earned a CKC Open obedience title. An attractive little furball animatedly bouncing around the ring invariably draws attention. Onlookers loved watching Mitzi, no matter how badly she did. That is both good and bad. There were more people to cheer us on but also more to see our fumbles.
Mitzi could be very creative in her responses and that clownish Havanese personality surfaced at the most inopportune times. Cute dance spins and flips on her about-turns and corners were crowd pleasers. Other memorable moments include beautiful precision heeling...on the wrong side!, returning the dumbbell to the judge, hopping back and forth over the high jump, running up to the judge and putting her paws up to say hello and more. But we got through it. Utility came together very naturally for Mitzi who saw it as a string of delightful games she got to play in the ring. After years of hard work, we finally earned the coveted title of OTCh. Obedience Trial Champion, one of my most treasured moments.
In those years of training, Obedience was not all we did. Obedience led to Pet therapy, Agility, Freestyle, Herding and Rally among other pursuits. Agility was a natural choice for an active dog. Mitzi adores tunnels above all, going out of her way to take a few extras. When over excited, course design comes into play with Mitzi enthusiastically taking any obstacle in her path. Once she got the sillies out of her system, she became a very consistent qualifier. Not everything we did was high energy. A good Therapy dog needs to be calm, gentle and friendly. These and other important traits come naturally to the Havanese. Even my lively bouncy girl could settle and be a great cheery visitor, excelling at doing tricks to entertain. Then along came Musical Freestyle, a perfect expression of Mitzi's exuberant nature. In keeping with her heritage, her first routine was done to a lively Latin beat, the tune of SPANISH FLEA. Her second routine used a tune called POPCORN. Somewhere along the way, I decided to try my hand at conformation. Mitzi, being spayed, could only compete in the altered and veteran classes (which are few and far between), she still managed to pick up 4 Best Altered in Specialty wins. The show bug bit, and I knew that my next Havanese would be a show puppy. As time went by, Mitzi and I tried more and more things; my special girl always willing to try anything and giving it 100% every time.
Can they really?
Can't teach an old dog new tricks? You don't really believe that, do you? Mitzi started Herding at 10 years of age and was trialling a year later. That was not all. We started Rally when Mitzi was 11&1/2, as soon as it became an approved CKC event. Over the next year she earned her Rally Novice, Advanced and Excellent. Can't teach an old dog new tricks? ..... You'd be surprised how keen they are to learn.
Before you scoff that Mitzi is one-of-a-kind (you'd be right) and the exception to the rule (you'd be wrong), let me introduce you to Cricket. Cricket is another of my Havanese girls growing up with multi- discipline training. At 6 years of age, she is titled in no less than 5 different CKC events. yes, you read that right. Cricket holds CKC titles in Conformation, Obedience, Agility, Rally and Herding and yes, she can switch back and forth with no trouble at all. By 10 years of age, Cricket could claim an impressive 19 titles to her name.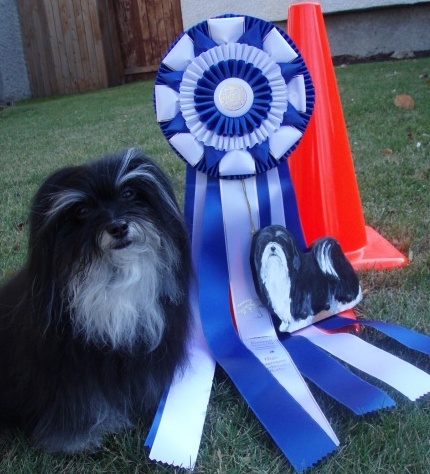 So, back to the original quandary. Can your Havanese tell the difference between Sit and Stand? You bet they can . and they can also learn Down and Stay, Come, Let's Go, Wait, Heel, Cookie, Dinner, Water, Bedtime, Walk, Car, Ride, Belly Rub, Kiss, On, Off, In , Out, Roll Over, Wave, Hi 5, Up, Dance, Twirl, Spin, Jump, Over, Under, Speak, Quiet, Potty, Hurry Up, Where's daddy?, Ball, Chewie, Frisbee, School, Take, Give, Hold, Drop, Fetch, Carry, Get It, Gentle, Settle, Find it, Kitty........ you get the picture. You can hang on to those old adages if you want to, but you'll never know the fun you're missing till you try. For my part, I will continue to believe in the virtues of multi-discipline training.
Author's note: Mitzi recently crossed the Rainbow Bridge. She was happily competing and handily qualifying until a few months before her death. She was quite literally on the go till the day she died. As one person said, her heart and soul was full of "Let's GO". Mitzi leaves us, being the most titled Havanese in Canada, with 27 assorted titles and certificates to her name. A number of Havanese Performance "firsts" in Canada have her name attached. Mitzi's memory will live on in the Havanese history books as well as in my heart.
OTCh. MBISS(alt) Jomaran's Little Miss Muffet CD, CDX , UD, CGN, CGC, RN, RA, RE, NJC, NAC, NGC, AGN, AGI, PSI, VADC, VSGDC, VOAC, VOJC, TNN, TNO, TGN, OTGN, OGC, SJATD, HIC, HT
---