Rally obedience
Rally obedience, or Rally-O as it is nicknamed, is a fun twist on Obedience. It is a recognized CKC event as of January 2007. Rally takes elements of Agility as well as formal Obedience to combine into a challenging but very enjoyable event. Like agility, each course can be completely different. Courses are laid out with numbered signs. Instead of obstacles, each sign has an action that must be completely at that station. Many of the actions will be traditional obedience commands, but others are complexly different, like offset figure 8s, spirals and dizzying 360 turns. Again, like agility, you may encourage and praise your dog all the way through. If you are not ready or inclined for formal obedience , Rally may be just right for you.
Canada's firsts
Cricket and Mitzi are two of the first Havanese to earn titles in the new event in Canada. Both earned their CKC Rally novice titles in June of 2007, their Rally Advanced titles in October 2007 and their Rally Excellent titles in February 2008.
Cricket then went on to work towards her RAE (Rally Advanced/Excellent) title. For that one, she needs to quality in both Advanced and Excellent at the same trial
to earn one leg and she needs 10 legs to earn her title.
We proudly accomplished this goal in 2010. Cricket is
the first Havanese in Canada to earn the RAE title.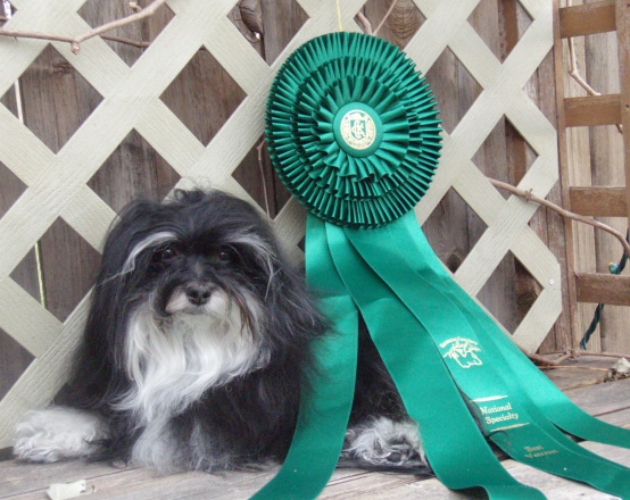 In the beginning
You have approximately 10 minutes to walk though and memorize your course. Even though the course is numbered, it can be easy to lose your way and get out of sequence. Beware of those leashes. Rally is a perfect activity for loose leash work. A tight leash is a penalty of one point. That's one point for each and every time the leash goes taunt.
Cricket and I had to practice at that one, losing 13 points for tight leash on our very first run. The facility we were at is great but at certain times of year does pose an interesting pitfall. Moths! In early summer, the area is host to millions of tiny moths, which are fatally attracted by the bright flourescent lights where they find their demise. Moth bodies litter the ground and rings. Even with sweeping between events and classes, there were still lots to be found. ...... 13 of them along our pattern if you must know. Yes, Cricket stopped at each and every one to see if it might be interesting, and every time she dropped her head, the leash went tight and off went another point.From her first run to steady qualifying, Cricket has come a long way and having fun at every step.
---