Coping with winter
Winter comes each year whether we are ready for it or not. What about our Havanese? The Havanese breed was developed in Cuba; his light-as-air coat meant to insulate against the island heat. But what about the cold? It may be a surprise to find, that, like an eiderdown, in the heat of summer, the profuse Havanese coat insulates to keep the dog cool, in winter it traps heat to help keep him warm. This does not make your Havanese a hardy outdoor winter dog, but it may allow him enough protection to enjoy short outings in the winter wonderland.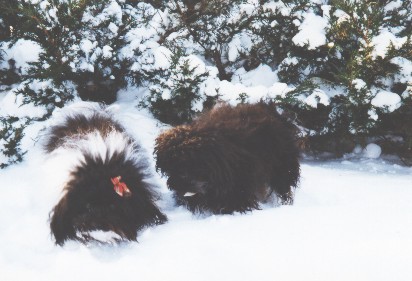 Many Havanese enjoy winter and love to frolic in the snow. Natural fur coats seem to be enough protection for most Havanese for short walks or playtime in the yard. Older Havanese as well as very young ones may have a harder time retaining their body heat in the cold weather. Havanese kept in clipped coats may also get chilled more easily. If your Havanese needs extra help to protect him from the elements and keep him warm, consider purchasing protective outerwear like a cozy sweater or jacket and booties. Pet stores have a vast selection in many styles and fabrics to keep your Havanese fashionable, dry and toasty. Waterproof nylon jackets, fleece lined for warmth are especially popular. Roll down cuffs are ideal to protect the legs and prevent snow accumulation. Certain fabrics are more coat friendly than others. Some types can build up static or cause friction which may cause matting of the fur. Some people love booties while others find them more of a bother than they are worth as they may be tedious to put on, do not stay on securely and can be too easily removed by enterprising Havanese. If your Havanese is not wearing boots, be sure to wipe his feet with a damp cloth when you bring him back indoors. Ice and snow can buildup can cause irritated and sore paw pads as can Chemicals and salt used to de-ice roads. If the body, legs and feet are covered in clingy snow balls, you may want to dry them thoroughly with a blow dyer to keep your Havanese from getting wet and chilled as well as to prevent the snow balls from melting all over your floor which invariably you will later find with your bare feet.
Interestingly, many of our Havanese living in the prairies do not have winter wear while our friends further East and West do. Are prairie Havanese hardier? Not at all. The answer lies in the temperature and weather patterns. It's the humidity that causes the most problems. On the prairies, though we do get frigid temperatures, it's generally a dry cold and for most of the winter the snow just fluffs off the coat easily. In other areas of the country where the winter are milder, the air is humid and the snow heavy and wet. This heavy wet snow clings to fur and forms enormous snow balls. It soaks to the skin and chills to the bone. Regardless of what area of the country you live in, pay attention to weather warnings on your local weather channel. If its too cold for you, its too cold for your Havanese. As the mercury dips, in extreme cold or windy icy conditions, outings may need to be limited to short potty breaks.
One last aside, just a reminder of the importance of keeping antifreeze away from your Havanese and all other pets. Antifreeze has a temptingly sweet taste that pets enjoy, but it also contains ethylene glycol which is lethal, even in small amounts. As little as a teaspoonful can be fatal to a Havanese. Take the time to check your local Pet supply store as Pet-safe anti freeze is available.
---